Tom Taormina – More than 50 Years
Expertise
With a perspective cultivated from having worked with more than 700 companies, Mr. Taormina brings a unique talent for precision problem diagnosis, strategic thinking, and effective written and verbal communications skills to his work as a quality consultant, trainer, and liability avoidance expert.
Tom was a team member at NASA Mission Control in Houston during the Apollo 13 disaster and recovery. His experiences during his 14 years at NASA formed the foundation for his ability to rapidly analyze problems and diagnose solutions. Tom was part of the early evolution of Quality Control Engineering at NASA. Beyond writing standards for process excellence, he also pioneered early breakthroughs in supply chain management. This skill set makes him an effective business consultant and insightful expert witness in products liability and organizational negligence.
As a business consultant, Tom conducts strategic business assessments, root cause analyses, process planning, quality management and risk assessments for companies from startup to global brand leaders.
As a consulting and testifying expert in products liability and organizational negligence, he conducts formal assessments of the defendant companies to determine if they exhibited an appropriate or negligent standard of care in introducing their products or services to the stream of commerce. Tom's proprietary methodology has been trademarked Forensic Business Pathology™ and has been an accepted credential by trial attorneys and judges.
Tom has written 12 books on the beneficial use of ISO 9001 and on risk avoidance.
Sectors | Segments | Applications
Implementation and auditing to ISO 9001, AS 9001 and TS 16949. Consulting on business excellence to a wide variety of industries. Expert witness in products liability and organizational negligence.
Certifications
Certified Manager of Quality and Organizational Excellence
Certified Management Consultant
Certified Lead Auditor to ISO 9001:2015
Representative Clients
American Productivity & Quality Center
Anadrill Schlumberger
Burlington Northern Railroad
Click-Bond
Dell Computer
Ford Motor Credit Company
Fluke Biomedical
Merrill Lynch Financial Data Services
NASA, Johnson Space Center
Wyeth Pharmaceuticals
Publications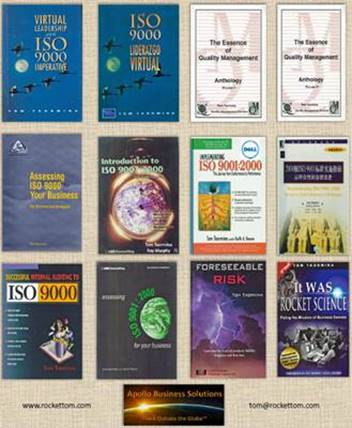 Contact (NV)