Greg Hutchins, PE, CERM – More Than 45 Years
Expertise
Mr. Hutchins coined the phrase – Future of Quality: Risk®.  Q+E has been evangelizing this concept since 2000 with the first article in Quality Progress.  Currently, all ISO management system standards incorporate risk.  Q+E is a leading firm helping organization transition to Enterprise Risk Management, Risk Assurance, and Supply Chain Risk Management.  Quality+Engineering is also the developer of Certified Enterprise Risk Manager® consisting of ERM, Project Risk Management, and Risk Assurance.
Sectors | Segments | Applications
Q+E was the first firm approved for Critical Infrastructure Protection: Assurance, Analytics® (CIP FAA) by the U.S. Government.  Q+E uses ISO 31K, COSO, SEI:CMM, SCAMPI; ISO 9001 to provide enterprise risk architecture, design, deployment, and assurance for all types of enforcement regulators and compliance (GRC) companies through professional engineering attestation.
Q+E has provided enforcement and compliance consulting in the following CIP sectors: water, electric power, chemicals, food, natural gas, etc.  Q+E wrote the book on Risk Based Audits and has conducted hundreds of assurance assessments, including forensic, assurance, performance (Yellow Book/Red Book), quality (ISO 9K, COBIT 28K, ISO 27K etc.), technology (NIST 800s, COBIT, 27K), and analytical (DHS, FAA, FDA, DOE, etc.).
Clients
U.S. Department of Homeland Security
U.S. Department of Energy
U.S. Department of Transportation
GasCo and Oil/gas companies
State of Oregon (Legislature)
Microsoft
Mayo Clinic
Coca-Cola
Microsoft
Boeing
First Data Corporation
Risk Publication Samples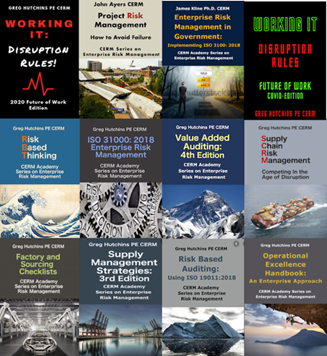 Contact (OR)